Concepts from Future Past: The Pontiac Stinger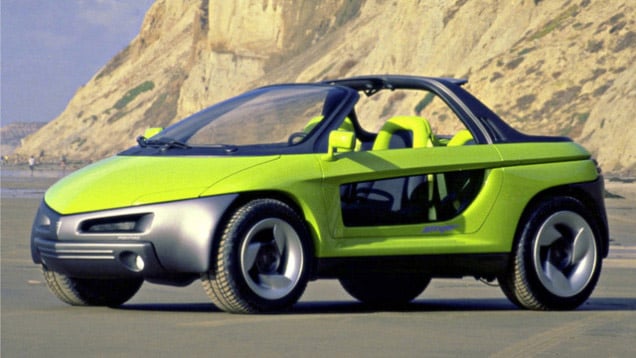 Long before Kia put the name to good use, Pontiac took us to the "excitement edge" with its futuristic Stinger. The 1989 Stinger Concept was created as a sporty, recreational vehicle, and revealed just one year after the Pontiac Banshee concept. Unfortunately, the car was never put into production so we never made it to the edge … the excitement edge.
The list of items in the Stinger that were made for fun on the go is nearly endless. The seats had removable inserts that could be used for seating outside the car, it had a removable AM/FM cassette player, two handheld vacuums, a garden hose, a gas stove, a picnic table, and even the door panels could be used as a removable ice chest. The Stinger also showed off some futuristic technologies, like a remote keyless entry system, seats and driver controls with memory, an adjustable suspension, two "long distance" cellular telephones, and carbon fiber body panels.
We're guessing instead of the Stinger we got the Pontiac Aztek. After watching these promotion videos, we're left with just two questions: why didn't Pontiac make this concept car instead of the Aztek, and was it possible to buy anything in 1989 that wasn't neon colored?